Product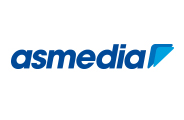 ASMedia Technology Inc.
Semiconductors
Digital ICs
Headquartered in Taiwan's capital city of Taipei, ASMedia has done business with a focus on high-speed interfaces since its establishment in 2004. We are a leading company in the industry and were the first to release a host controller using USB 3.1, one of the fastest interface technologies. We are currently expanding our product lineup with a focus on products utilizing PCI Express, which is set to be a key interface in the future.
USB 3.1 product lineup
"Host controllers
Device controllers (USB 3.1 to SATA bridge SoC)
Repeaters
CC Logic and multiplexer combination IC
etc."
PCI Express products
"PCI Express Gen2 packet switches
PCI Express Gen3 packet switches
Repeaters
Multiplexers
PCI to PCI Express bridges
etc."
Supplier overview
Supplier Name

ASMedia Technology Inc.

Estabished

Mar. 2004