Business Lineup
Amusement
With the intensification in recent years of competition in the field of amusement machines, and especially pachinko and pachinko slot machines, companies are working to set themselves apart from their competitors through the development of machines that offer both high performance and a multitude of special effects with the incorporation of high resolution LCD displays, projectors, and semiconductors with new features. Now more than ever, there is constant demand for high value-added products, modules, and even recommendations for new suppliers.
We are also carrying out activities that inspire customer confidence in their choosing us: these include looking for new suppliers with leading edge technologies, offering lectures about the quality standards necessary for entering the amusement industry, and removing the barriers to entry beforehand. We are constantly working to respond to our customers' needs in a variety of ways, from creating an environment that helps improve our reliability, to incorporating the latest technologies in our module offerings. Having further strengthened the utilization of our overseas networks, and gained an understanding of the needs of our Japanese and overseas customers, we will offer our support to those who are looking to enter the casino business, and to Japanese customers expanding their businesses overseas. We are determined to expand our areas of business by offering module products and solutions in other fields through leveraging the know-how that we have built in the amusement field.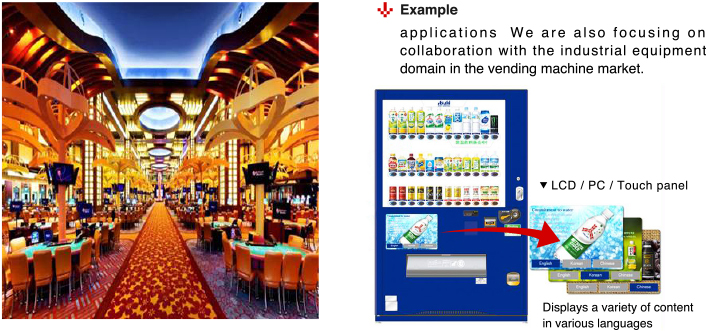 Main advantages
We are highly reliable, with expertise and know-how specific to the amusement field.
We offer the latest products (modules), and can provide real-time industry and product information.
We reduce our customers' development time by offering recommendations for everything from semiconductors and other products to modules.
We offer a field application engineer support system, which is required to resolve technical issues, even to companies outside of Japan.
We can support customers in their development of such technologies as recycling.