Business Lineup
New Business Development
NEXTY Electronics goes beyond the traditional role of trading companies, which entails supplying products and other deliverables that are then sold as is. Through wide-ranging businesses that include discovering products, selling module products that have been machined, implemented, or otherwise finished, and selling products that we ourselves developed, we answer our customers' needs with precision.
At the same time, we generate businesses employing new business models that involve leasing equipment, providing services, and creating environments that make it easy for our customers to sell products. The scope of our new businesses runs the gamut and includes the launching of joint ventures with other enterprises and establishing standards bodies.
We are currently leveraging our experience in the automotive field ? the area of greatest strength for the company ? to provide technical advice concerning sensors, communications, and information processing. We hope to be an indispensable partner for our customers by improving both our technologies and the quality and functions we provide, offering ever better solutions and support, and reaching out to manufacturers and industry members while also moving into new industries.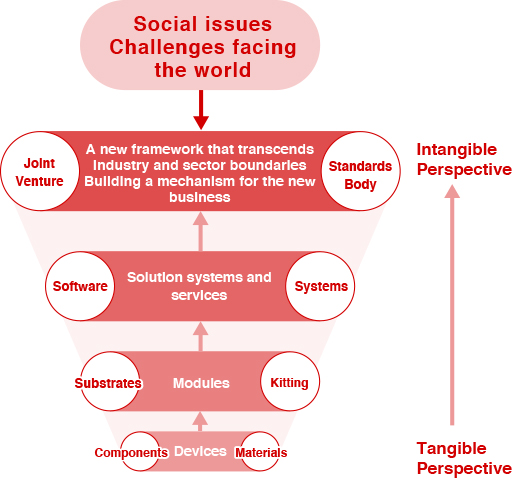 Main advantages
Proposing new concepts and ideas, providing development and sales support, and otherwise serving as an "one-stop shop" for a diverse range of vendors and industries.