Products

Electronic parts
Display/HMI
Handling Regions

Japan
North America Region
Southeast Asia and India Region
East Asia Region
Europe Region
(Please contact us for North America Region Sales Chanel.)
JOLED Inc. conducts research, development, manufacturing, and sales activities for OLED displays, their parts, materials, manufacturing equipment, and associated products. JOLED was founded in January 2015, combining the OLED display development divisions of Sony Corporation and Panasonic Corporation, with the goal of accelerating mass production development and commercialization of OLED displays. JOLED started operation of the world's first mass production line of printed OLED displays at its Nomi site, from November 2019. JOLED will produce medium-sized printed OLED displays for use in areas such as high-end monitors, medical monitors and automotive displays.
NEWS&TOPIC
OLED Advantage
Ultra-thin and light weight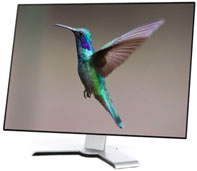 JOLED display realizes ultra-thin form of 1.3mm thickness and light weight of 500g, as a result of its simple panel structure with no backlight.*
Energy efficient
JOLED display is energy efficient because it does not need backlight
and is self-illuminating device that each EL element can be ON/OFF as needed.
Superb picture quality and accurate color reproduction
JOLED display has various advantages that can realize superb picture quality. It has 130% sRGB coverage that realizes greater color accuracy.*
High resolution and high definition
JOLED display has capacity to realize superb picture quality of 4K resolution with 3,840(RGB) x 2,160, 204ppi.*
Perfect jet-black
JOLED display is self-illuminating device that each EL element can be ON/OFF as needed. When it is OFF, it displays perfect black (jet-black). There is no light leakage like LCD. It also accurately displays color fineness with contrast ratio of 1,000,000:1 for darker blacks and brighter whites.*

Fast response time
Fast in responding, it displays movies smoothly and beautifully, taking
advantage of self-illuminating device.

*In the case of 21.6 inch 4K JOLED display

The newly released JOLED is the world's first OLED panel with these features, and is the world's first printing method. Three types of panel sizes, 22", 27", and 32" will be released.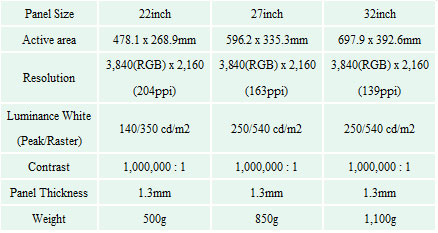 Supplier overview
Supplier Name

JOLED Inc.

Estabished

Jan. 2015