Products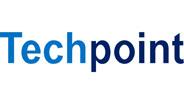 Techpoint, Inc.
Techpoint, Inc.
Semiconductors
Analog ICs
Communications
Handling Regions

Japan
Techpoint is a fabless semiconductor company developing proprietary high definition video connectivity technology targeting high definition video surveillance systems and automotive infotainment systems.

HD-TVI (High Definition Transport Video Interface)
The basis for HD-TVI is taking uncompressed HD video and transmitting it over 500 meters of distance on standard low cost 3C-2V coaxial cables using analog transmission techniques. This technology solves the problem of distance, cost, and reliability associated with HD-SDI and other digital LVDS transmissions without the drawbacks of video compression necessary with HD Ethernet or IP video.

LCD Controller with HD-TVI Receiver
・Analog Video Decoder(HD-TVI, NTSC/PAL)
・Digital Video Decoder(RGB, YUV, BT.1120)
・Support SPI Graphic OSD and Font OSD
・8051MCU w/cache
・Single-End/Differential HD-TVI
・1.2/3.3V operation
・128pin LQFP or 88pin QFN
・AEC-Q100

Application
 -Vehcle Infortainment System
 -E-mirror System"

4ch HD-TVI Video Decoder with MIPI-CSI2 output
"・4ch Analog Video Decoder(HD-TVI, NTSC/PAL)
・1080p60/50/30/25fps, 720p60/50/30/25fps
・Input : HD-TVI, 960H
・Output : MIPI-CSI2 up to 4 lane
・1.2/3.3V operation
・68pin QFN(8x8mm)
・AEC-Q100

Application
 -Sorround View System"

Supplier overview
Supplier Name

Techpoint, Inc.

Estabished

April 11th 2012