Products
Texas Instruments Incorporated.
Semiconductors
Sensors
Analog ICs
Digital ICs
Communications
Power ICs
Microcontrollers/FPGA/Processors
MEMS
Handling Regions

Japan
North America Region
As a global semiconductor company that develops, designs, and manufactures mainly analog ICs and embedded processors that pave the way to future innovations, Texas Instruments Incorporated ("TI", headquartered in Dallas, Texas) provides support to the global business of its customers through a broad portfolio of products built with state-of-the-art technologies and a production system that utilizes the TI Worldwide Network and robust(fulfilling) sales and technology services.
Main products
Amplifiers
Audio
Clocks and Timing
Data Converters
DLP® Products and MEMS
Interface
Isolation
Logic
Motor Drivers
Power Management
Embedded Processors
RF and Microwaves
Sensing Products
Switches and Multiplexers
Wireless Connectivity
WEBENCH® Design Center
WEBENCH is a unique and powerful software tool that delivers customized power, lighting, filtering, clocking and sensing designs in seconds. WEBENCH online design support tools help you generate, optimize and simulate designs that conform to your unique specifications.
http://www.tij.co.jp/webench
TI Designs
A library containing reference designs for range of applications. Each reference design provides all information needed for design, including circuit/block diagrams, BOM tables, design files, and test data.
http://www.tij.co.jp/tidesigns
FPD-LinkⅢ®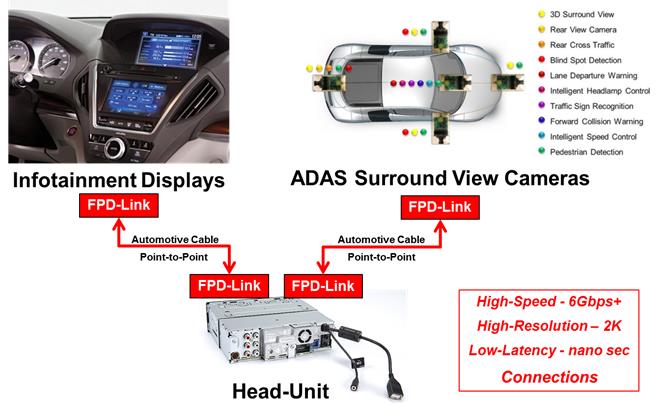 FPD-Link is a serial interface standard for video data transmission and is defined by three key features.

1. Simple cabling for the sending and receiving of video data
Requires only one twisted-pair or coaxial cable to serialize and transmit video signals.
2. 1.6 Gbps high-speed transmission
Can transmit uncompressed HD video without any latency
3. Noise resistance that allows good transmission over even cables 10m or longer
Supports cables longer than several meters for sending video data to ECUs from cameras installed on the front or back of vehicles, and to video screens from ECUs
For ADAS cameras: FPD-LinkⅢ DS90UB913A-Q1 and DS90UB914A-Q1
[Features]
- Supports 1 MP cameras
- 75/100 MHz PCLK
- 10/12 bit digital interface
- Supports Power-Over-Coax
[Applications]
- Surround View Systems
- Rear and Front View Cameras
- Driver Monitor Cameras
- Electronic Mirrors
Power Management ICs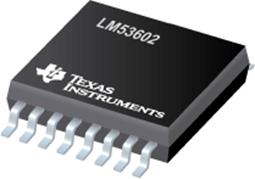 "TI's Power Management ICs have Buck, Boost, Buck/Boost, Battery Management and Gate Drivers, making them suited to a wide range of needs that span standard ICs to all-inclusive solutions.
From Voltage Regulators such as Switching DC/DC Converters and Linear Regulators to PMICs, TI offers a wide-ranging power supply product lineup. TI's robust power management product lineup enables the development of affordable solutions and greatly speeds up product development. "
Wide Input 2 MHz Step-Down DC/DC Converters [LM536x series]
[Features]
- Input voltage: 3.5 V to 36 V
- Built-in FET
- Spread Spectrum (SSCG)
- Forced PWM mode
- Qualified for AEC-Q100
[Package Technologies]
- Uses high-efficiency, low-noise packages featuring HotRod package technologies that do not use wire bonds, allowing for low-on-resistance and low-inductance.
Supplier overview
Supplier Name

Texas Instruments Incorporated.

Estabished

1930