Products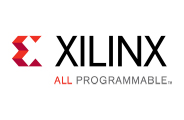 Xilinx, Inc
Semiconductors
Digital ICs
Microcontrollers/FPGA/Processors
Handling Regions

Japan
Xilinx is the world's leading vendor of programmable logic devices, the product segment enjoying the fastest growth in the semiconductor industry. In 1984, Xilinx became the first to develop FPGA, and innovative technology in the field. The company is headquartered in San Jose California and established Xilinx K.K. in Japan in 1989. Xilinx continues to be an innovative solutions provider.
Zynq-7000 All Programmable SoC and Zynq UltraScale+ MPSoC
Xilinx's All Programmable SoC portfolio integrates the software programmability of a processor with the hardware programmability of an FPGA, providing you with unrivaled levels of system performance, flexibility, and scalability. The portfolio gives your designs overall system benefits of power reduction and lower cost with fast time to market. Unlike traditional SoC processing solutions, the flexible programmable logic provides you with optimization and differentiation, allowing you to add the peripherals and accelerators you need to adapt to a broad base of applications.
All Programmable FPGA & 3D IC
Xilinx offers a comprehensive multi-node portfolio to address requirements across a wide set of applications. Whether you are designing a state-of-the art, high-performance networking application requiring the highest capacity, bandwidth, and performance, or looking for a low-cost, small footprint FPGA to take your software-defined technology to the next level, Xilinx All Programmable FPGAs and 3D ICs provide you with system integration while optimizing for performance/watt.
Zynq UltraScale+ MPSoC
Zynq® UltraScale+™ MPSoC devices provide 64-bit processor scalability while combining real-time control with soft and hard engines for graphics, video, waveform, and packet processing. Built on a common real-time processor and programmable logic equipped platform, three distinct variants include dual application processor (CG) devices, quad application processor and GPU (EG) devices, and video codec (EV) devices, creating unlimited possibilities for applications such as 5G Wireless, next generation ADAS, and Industrial Internet-of-Things.
https://japan.xilinx.com/products/silicon-devices/soc/zynq-ultrascale-mpsoc.html
Supplier overview
Supplier Name

Xilinx, Inc

Estabished

1984