Products

Nisshinbo Micro Devices Inc.
Semiconductors
Sensors
Analog ICs
Digital ICs
Communications
Optoelectronics
MEMS
Electronic parts
Passive
Handling Regions

Japan
Nisshinbo Micro Devices Inc. (NISD) is founded on January 1st, 2022 by integrating New Japan Radio Co., Ltd. (NJR) and Ricoh Electronics Devices Co., Ltd.
Leveraging the strengths that both companies have cultivated over the years as analog device manufacturers, Nisshinbo Microdevices Inc. provides automotive grade ICs f that meet the requirements of each application from in-vehicle electronics through powertrain.
In addition, we conduct establishment of sales and manufacturing traceability systems, and strict quality management. Keeping in step with the electrification of cars, we provide our customers with a wide variety of ICs that can support safety and security.
NJU77903 Series : Rail-to-Rail Input/Output Single CMOS Operational Amplifiers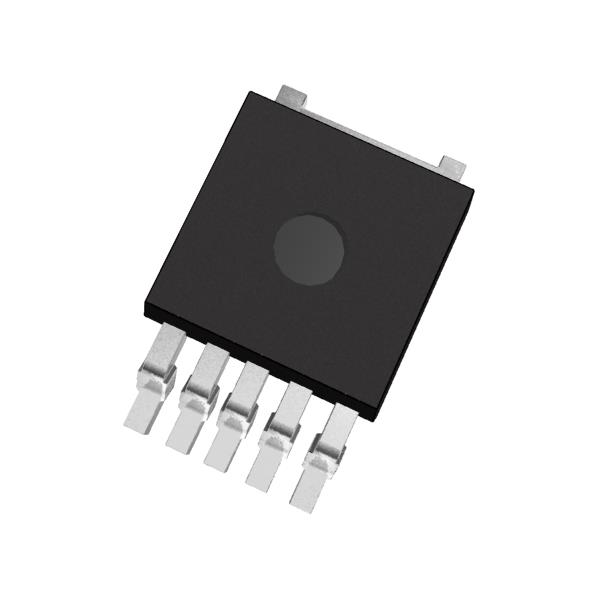 The NJU77903 is a 36V operable Rail-to-Rail input/output CMOS operational amplifier featuring an output current capacity of 200mAPP typ. It is suitable for high voltage and high output current
applications such as drive motors for hybrid and electric vehicles and resolver excitation applications that are angle detection sensors for EPS. In such applications, high output current was supported by configuring the circuit with multiple parts such as operational amplifiers and transistors, which led to complicated circuit design and larger ECU.By using the NJU77903, it contributes to simplification of design and reduction in size and weight of the mounting board and ECU.
Ideal for high-voltage and high-output current applications such as resolver excitation
FEATURES
● High output current
:
±100mA typ. (200mAPP typ.)
● Operating temperature
:
Topr = −40°C to 125°C
● Rail-to-Rail input / output
● High EMI immunity
● Supply voltage
:
6.8V to 36V
● Supply current
:
9.5mA typ.
● Open loop gain
:
100dB typ.
● Input bias current
:
1pA typ.
● Slew rate
:
3.5V/µs typ.
● Unity gain frequency
:
1.5MHz typ.
● Thermal shutdown
● Current limit
● Package
:
TO-252-5-L3
RN5T5611 Series:For Automotive CMOS Image Sensors, Compliant with ISO26262 ASIL-D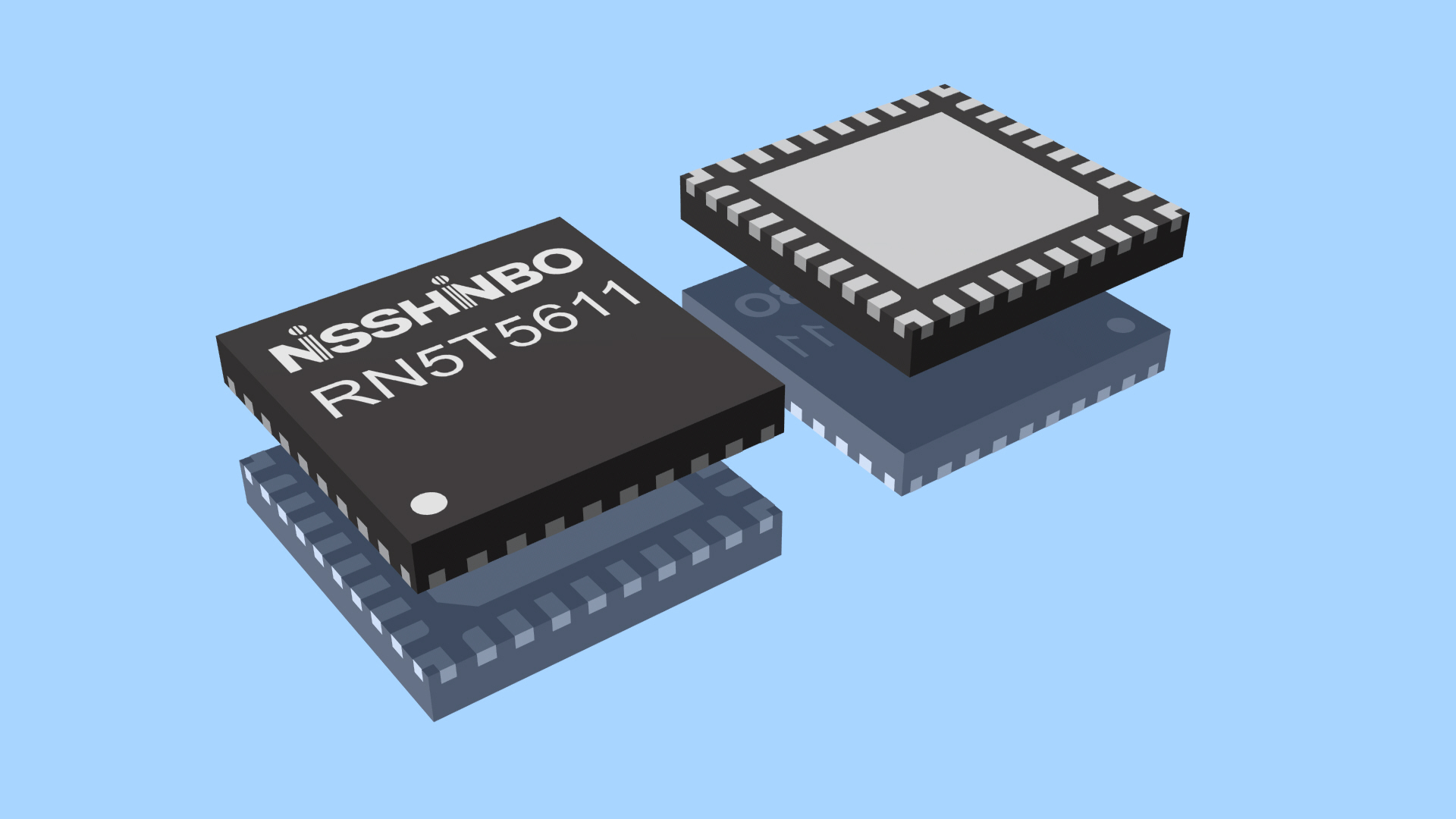 The RN5T5611 series is a power management multi-channel IC for CMOS image sensors, which is compliant with the development process of ISO26262 ASIL-D. It includes two DC/DC switching regulators, one ultra-low noise LDO regulator, four monitoring circuits for over- and under-voltages, and a BIST function. The input voltage range is from 3.0 V to 5.5 V with a rating of 6.5 V, and the output voltage is flexibly settable by laser trimming. Also, the built-in I2C interface enables reading the status and partially changing settings of RN5T5611 series.
The RN5T5611 series adopts QFN0505-32-P7 (5.0 mm x 5.0 mm) as its package, featuring leadless wettable flank structure that makes it easy to conduct mounting inspection.
3-channel Power Management IC Corresponding to Functional Safety
FEATURES
Input Voltage Range (VIN)
:
3.0 V to 5.5 V (Maximum Rating 6.5 V)
DC/DC Output Voltage Range (VOUT1)
:
1.0V to 3.3V ±1% (Max. 1.0 A) *
LDO Output Voltage Range (VOUT3)
:
2.5 V to 3.5 V ±1% (Max. 200 mA) *
LDO Output Noise
:
Typ. 6 μVrms
LDO Ripple Rejection
:
Typ. 80 dB (f=1kHz) / Typ. 60 dB (f=100kHz)
UVP / OVP
:
4 channels
Communication
:
I2C interface 1 MHz / 400 kHz
Functions
:
Thermal shutdown,Auto discharge,Analog and logic
BIST,Soft-start, short-circuit protection, UVLO, etc.
* Fix voltage by lazer trimming at shipping
NR1640 Series : Ultra-low noise and High PSRR LDO Regulator , Suitable for Use in Automotive Applications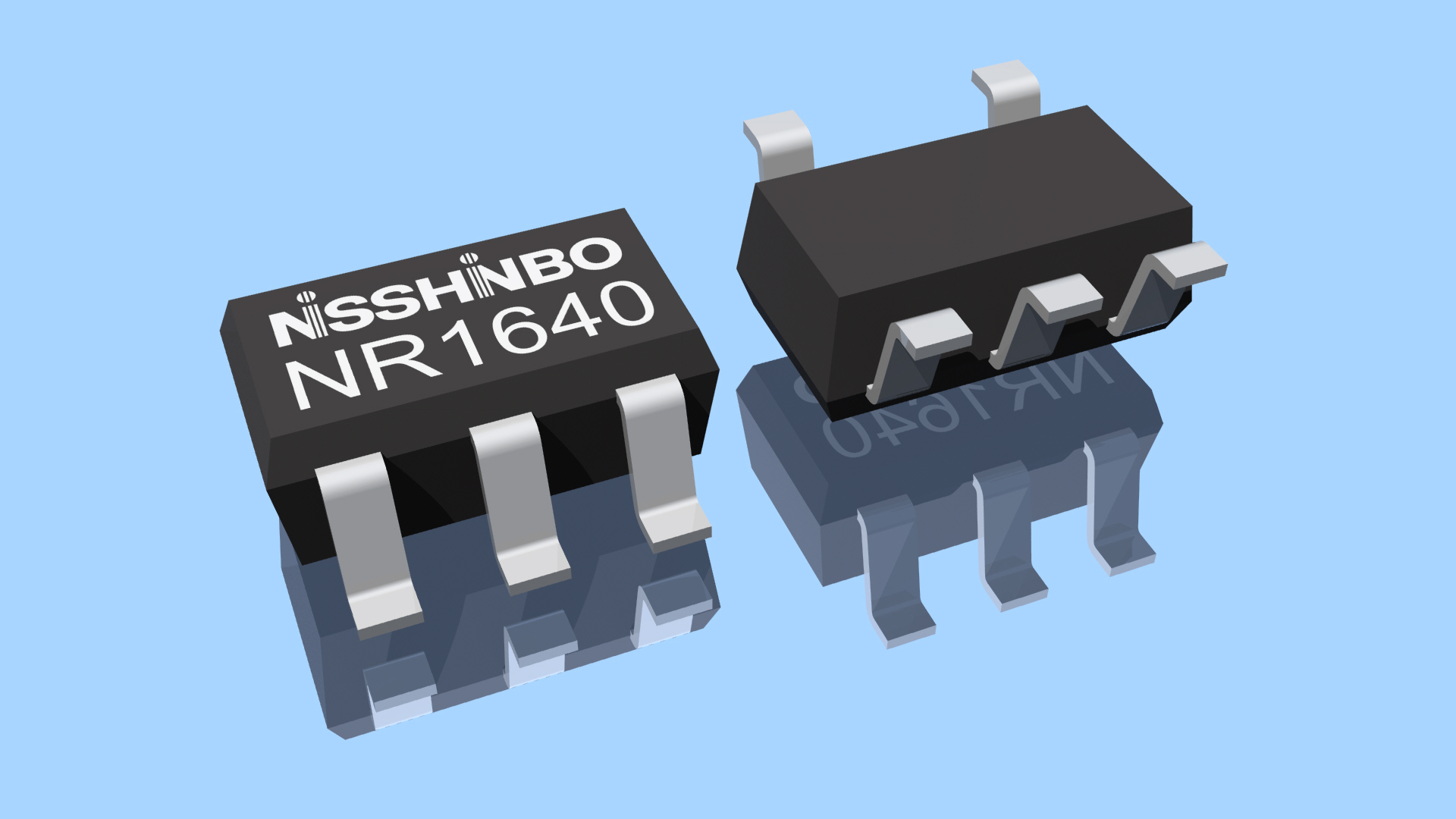 The NR1640 series, thanks to the sophisticated wafer process and optimized circuit layout, is a LDO regulator product featuring ultra-low noise and high PSRR simultaneously. With the output noise of 6.0 μVrms and PSRR of 80 dB, the new product will contribute to enhancing the performance of automotive sensors.
Basic specifications are as follows: the input voltage range of 2.7 V to 5.5 V (Rating: 6.5 V); the output current of 200 mA; and the output voltage range of 2.5 V to 4.8 V (0.1 V step, internally fixed version). In addition, it corresponds to a wide operating temperature range of -40°C to +125°C with the output voltage accuracy of ±1.5 %, which enables the IC to operate properly even in harsh environments.

The NR1640 series is suitable for use in automotive sensors inside ADAS such as LiDARs, sensing cameras, driver monitoring systems, etc.
Ultra-low noise, high PSRR, and soft-start functionality contribute to high-precision sensing for in-vehicle sensor equipment
FEATURES
Input Voltage Range (VIN)
:
2.7 V to 5.5 V (Maximum Rating 6.5 V)
Output Voltage Range (VOUT)
:
2.5 V to 4.8 V
Quiescent Current
:
350 µA typ.
Dropout Voltage
:
0.2 V max. (VOUT = 3.3 V, IOUT = 200 mA)
Ripple Rejection
:
80 dB typ. (f = 1kHz)
Output Noise
:
6.0 µVrms (f = 10Hz to 100kHz)
Operating Temperature Range
:
-40°C to 125°C
Functions
:
Soft-start, Auto discharge,
Short-circuit protection, Thermal shutdown
Package
:
2.9 x 2.8 x 1.1 (mm) SOT-23-5-DC
Supplier overview
Supplier Name

Nisshinbo Micro Devices Inc.

Estabished

Jan. 1st, 2022