Partnered Manufacturers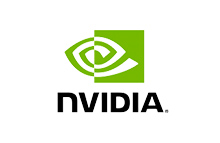 NVIDIA
Semiconductor
Microcomputers/Processor/DSP
ASSP/ASIC
Boards/Devices
Devices
Handling Regions

Japan
North America Region
Southeast Asia and India Region
(Please contact us for North America Region, Southeast Asia and India Region Sales Chanel.)
Born in Silicon Valley in 1993, NVIDIA is the inventor of the GPU and a world leader in visual computing. GPU-based deep learning will pave the way to a new age for computing and modern-AI will be the catalyst. This technology will form the backbone of a diverse array of computers, robots, and autonomous vehicles. Today, NVIDIA is further elevating its name as an "AI computing company".
Processor and development platform for autonomous driving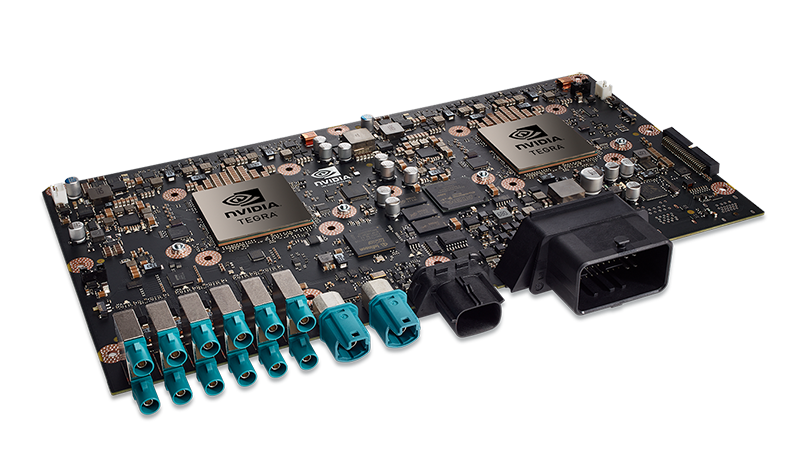 "NVIDIA provides the immense computing power needed for autonomous driving to bring the world a state-of-the-art and fully-complete autonomous driving system platform. The platform effectively employs deep learning for cutting edge semiconductors and other products where top class performance and energy efficiency is a must.
Autonomous driving systems using NVIDIA's GPU solutions are being deployed at the mass production level by leading companies in automotive markets around the world, and are garnering attention as an absolutely essential cutting-edge technology. "
GPU-based deep learning development environment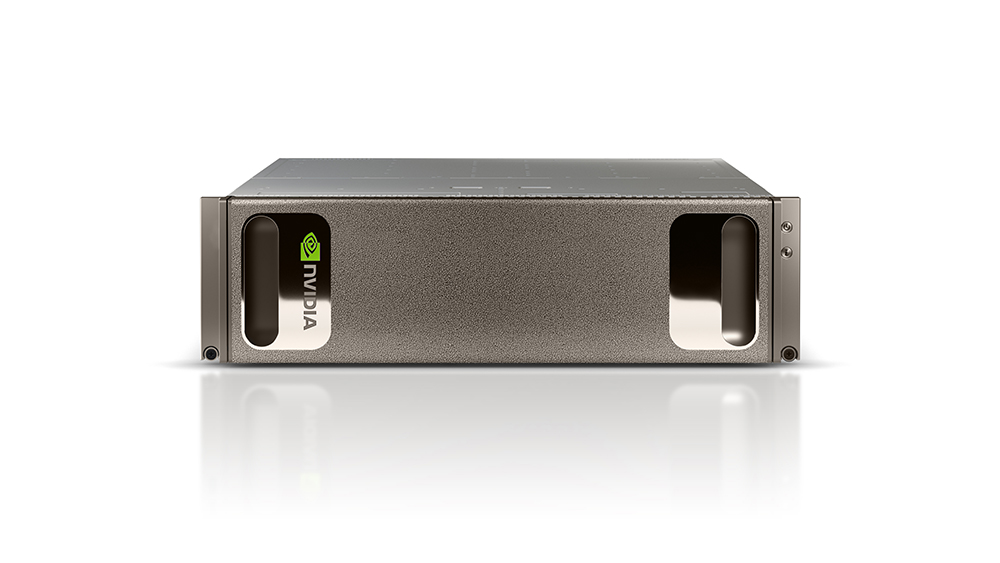 GPU computing plays a critical role in the development of deep learning. We provide solutions for deep learning environments that answer a range of needs. This includes the DGX-1, an NVIDIA deep learning supercomputer perfect for deep learning applications using big data, as well as the Deep Learning Box, a GPU-accelerated all-in-one server.
The AI platform for autonomous machines
JETSON AGX Xavier Module / Developer Kit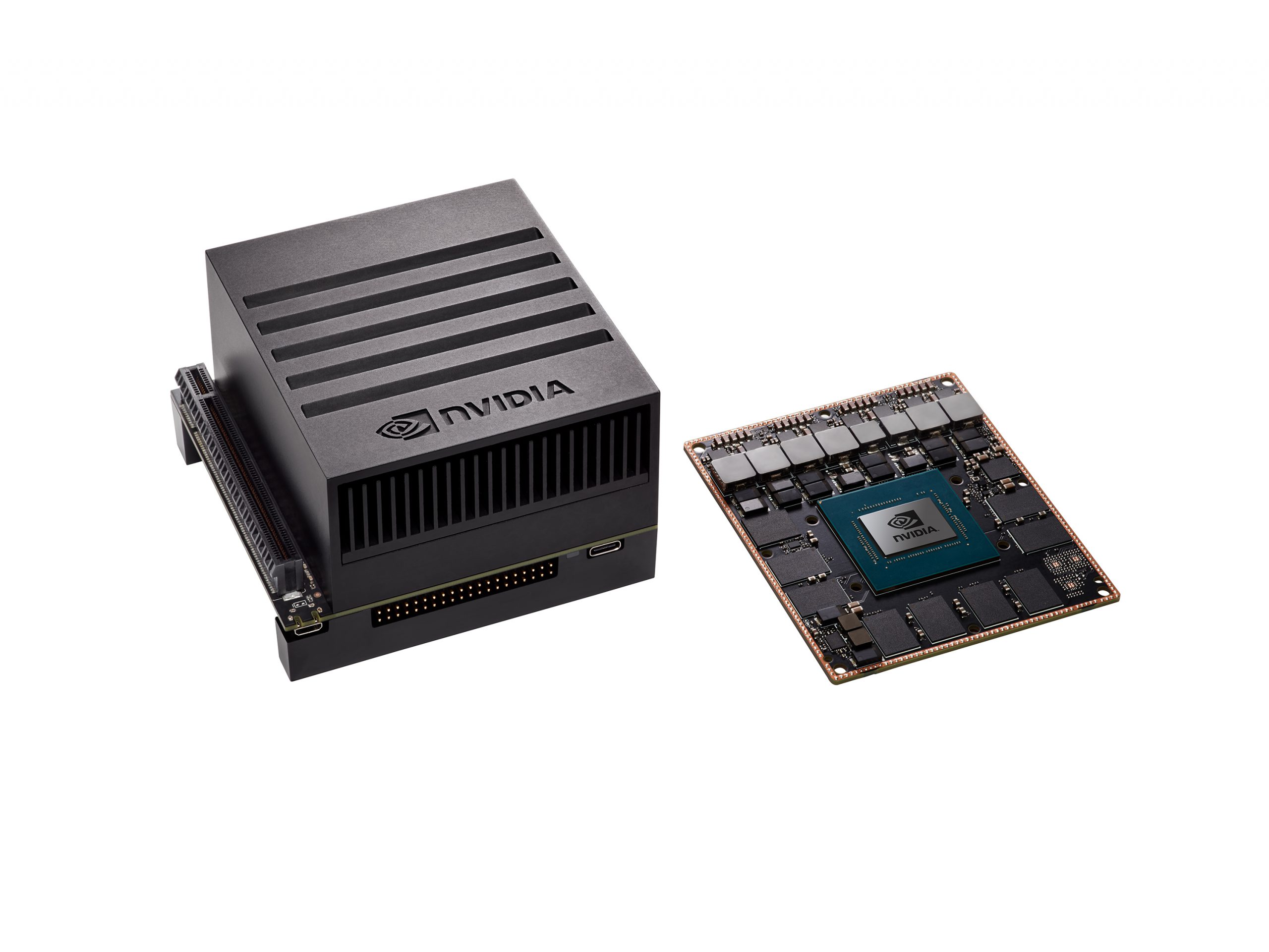 Jetson AGX Xavier is the first computer designed specifically for autonomous machines. This compact, power-efficient module includes hardware acceleration for the entire AI pipeline and lots of high-speed I/O, so customers can bring their latest AI applications to the edge. For customers who want to create industrial-grade and/or safety-certified products, Jetson AGX Xavier Industrial offers extended temperature range, shock, and vibration specifications as well as new functional safety capabilities.
Jetson Xavier NX Module / Developer Kit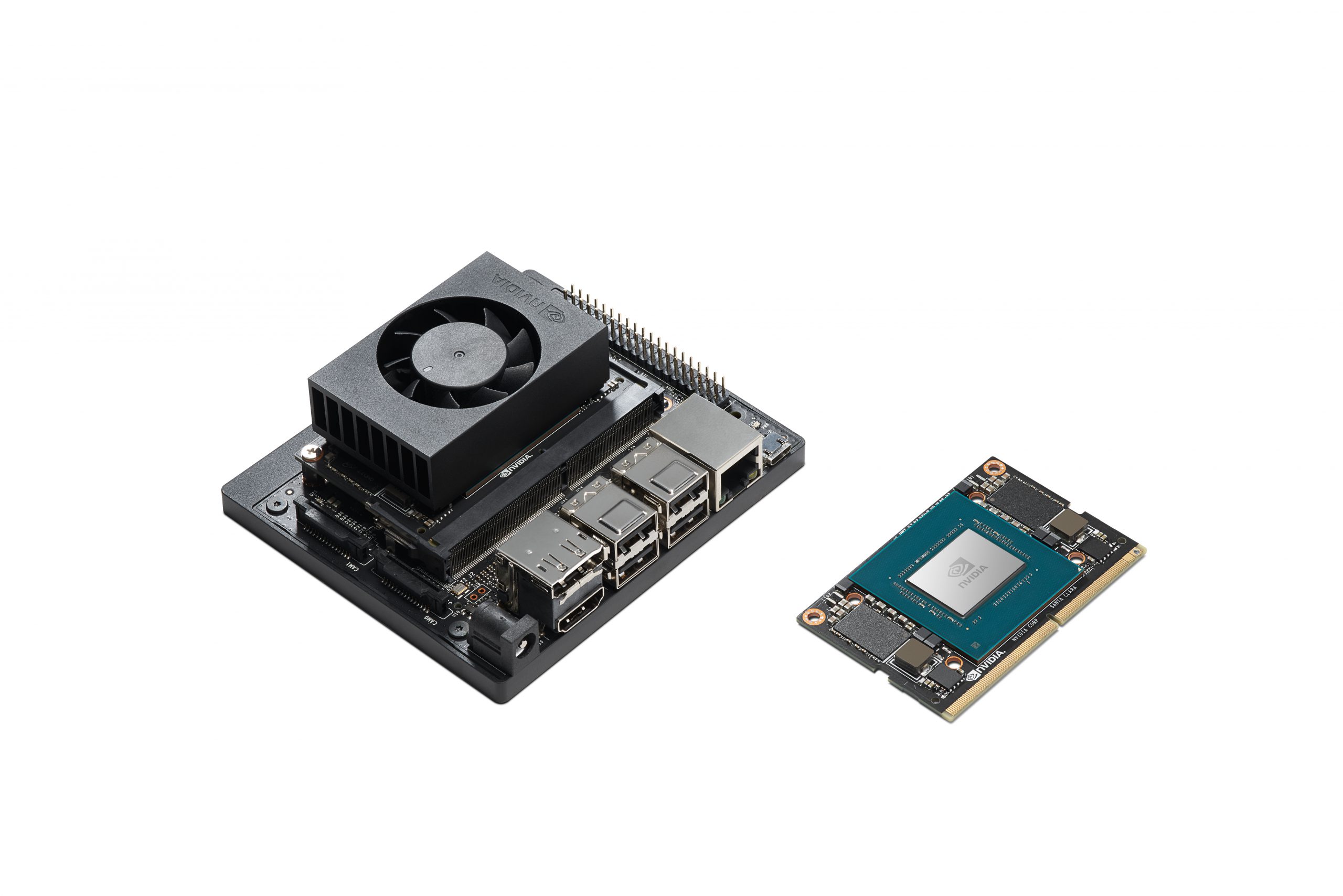 Jetson Xavier NX brings up to 21 TOPs of accelerated AI computing to the edge in a small form factor module. It can run multiple modern neural networks in parallel and process data from multiple high-resolution sensors—a requirement for full AI systems. Jetson Xavier NX is production-ready and supports all popular AI frameworks.
Jetson Nano Module / Development Kit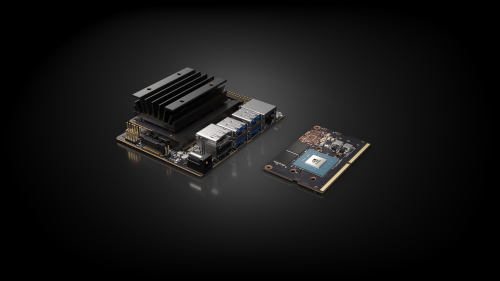 The Jetson Nano module is a small AI computer that has the performance and power efficiency needed to run modern AI workloads, multiple neural networks in parallel and process data from several high-resolution sensors simultaneously. This makes it the perfect entry-level option to add advanced AI to embedded products.
Drive PX 2 and Driveworks platforms for autonomous vehicles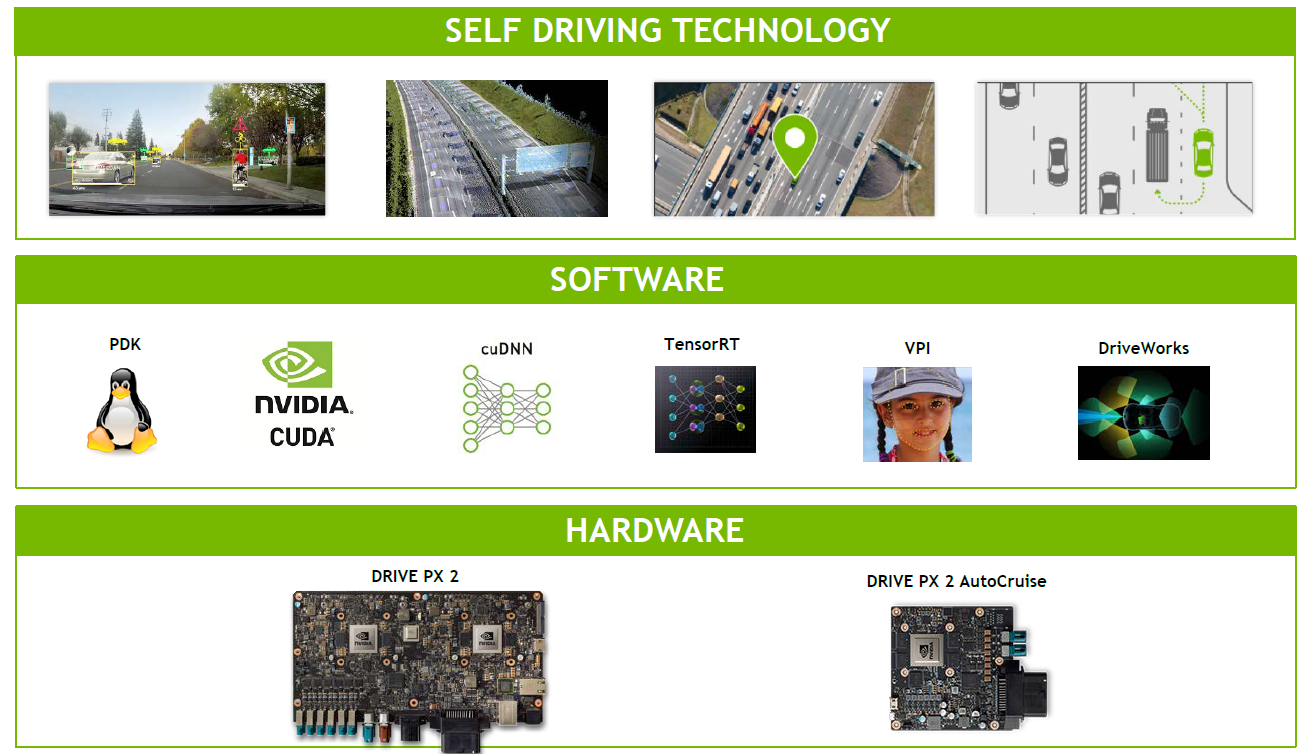 " The DRIVE PX 2 is a car computing platform equipped with state-of-the-art SOCs and aimed at accelerating development of autonomous cars. Delivering an unprecedented 24 trillion deep learning operations per second, the platform is able to run the most complex deep learning-based inference algorithms. To ensure safe and accurate autonomous vehicle guidance in all driving environments, the system achieves compute performance akin to a power-thrifty supercomputer at the embedded level.
 DRIVEWORKS is an integrated autonomous driving software development kit that runs on DRIVE PX 2 hardware. The package comes complete with sensor processing, sensor fusion, CV (computer vision), and a DNN (deep learning network) — technologies needed for autonomous driving — as well as functions for estimating current location, calculating route plans, and performing visual processing, among others. This makes it a powerful tool for developing next-generation autonomous driving technologies. "
Deep learning solutions for next-generation mobility applications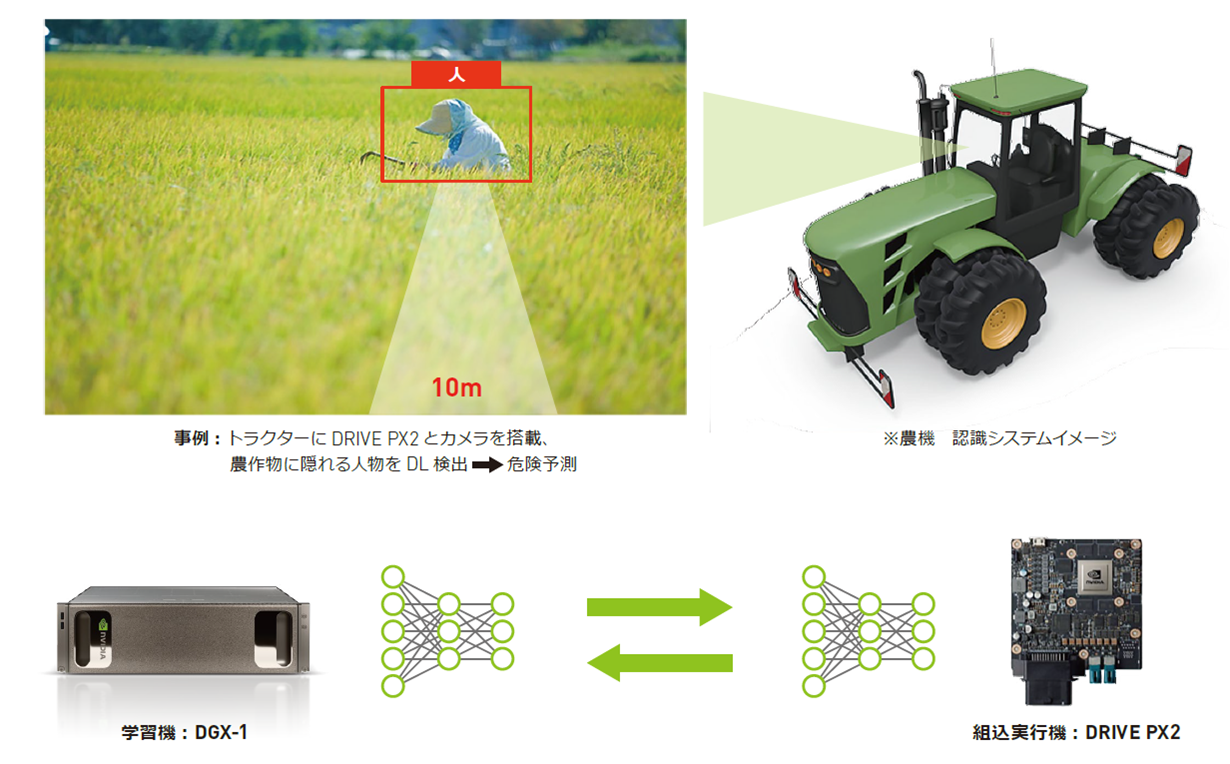 "Leveraging our extensive expertise in the automotive industry, NEXTY Electronics utilizes deep learning technologies centered on GPU computing in all mobility applications, and offers solutions to assist with autonomous travel and driving.
We do contract development for various algorithms as well as neural networks for object recognition, in addition to proposing the right sensor for the application. We also provide a total suite of services that includes BPO services such as acquiring data for deep learning and tagging. Through these services, we offer end-to-end solutions for wide-ranging customer needs that span development to mass production, and even function updating following mass production. "
Supplier overview
Supplier Name

NVIDIA

Estabished

1993